A cardboard box is the best toy of all...
Dec 16, 2010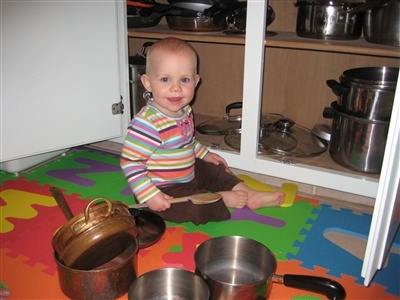 Well, maybe my daughter would argue that this week the pots and pans are the best, but she only has a few words right now, so I'll continue on this train of thought! In this season of giving, it is so easy to get caught up in the newest, latest gadgets, and what the "best educational toy" might be. But as one of my mentors, the Head of School at the Calhoun School in New York, recently wrote in his blog, "Real learning occurs through play, active engagement, rich sensory stimulation, exploration, intrinsic satisfaction and imagination." Yes, I am sure there are toys and gadgets that can inspire all of these things, and I am sure I have been guilty of buying them, but Ellen, my 13 month old, has reminded me again and again that sometimes it is the simplest things in life that give us the most joy.
Ellen's birthday was a low-key affair. We all had colds, were tired, it was just after the clock turned back and hour, so it seemed unreasonably dark that evening. But we rallied for this momentous occasion with a few gifts and some cake, and we all had a ball. Her favorite part, by far, was the wrapping paper and a box that one present came in. She spent ages putting paper in the box, closing the lid, opening the lid, and taking out the paper, and repeating the process over and over. We decided that we could have just wrapped up boxes, and she would have thought it the best day ever. Watching her have so much fun exploring these things was her best gift to us.
Some of her birthday presents from her Gammy came in a cardboard box that we have made more use out of than I could ever imagine. It is a boat, a car, a sorting box, a hide-and-seek prop, a bed for stuffed animals, and more. Aside from the lovey she sleeps with, it might be Ellen's most favorite toy. She plays with it on her own, we play with it with her, she uses it to help her stand up…and this is only the beginning. I remember using many a cardboard box to make play houses and forts, for sets and costumes for school plays, as the base for murals, and more. Think of all of the times you have had fun with a cardboard box! They are still pretty inspiring!
So in this holiday season, I hope you'll remember that even the simplest things – be they boxes, pots and pans, or a walk in the woods with your family, are often the most memorable and most inspiring. The things that make us play, stimulate our senses, lead us to explore, and inspire our imaginations are the most valuable gifts, and often the simplest. From these simple beginnings, our minds can soar, and that is the best learning of all. I hope you enjoy the vacation, and truly make it vacation, indulging in all of the fun, simple, non-traditional ways of learning!
Happy Holidays!
*In 2020, the International School of the Peninsula (ISTP) formally changed its name to Silicon Valley International School (INTL) to better reflect its bilingual programs, location, and international values.