How exciting to practice the language you are studying in the country of origin!
Our Middle School students have had the opportunity to explore France for the past week, visiting breathtaking sights all across Paris. Below are a few highlights of their trip:
They experienced the Hôtel des Invalides and the Tomb of Napoléon Bonaparte. They learned not only about France's ancient history, but also the world's more recent history by visiting the Two World Wars Museum.
During one of their Paris excursions, the students visited the gorgeous Paris Opera House, where they were amazed by the huge staircase, the ballroom, the beautiful auditorium with a dome painted by Marc Chagall.
While at the Opera, they were lucky enough to see an exhibit on opera/ballet sets, and costumes.
Paris is known for being a "walking city: and the group took advantage of the gorgeous weather by walking down Rue de la Paix towards Place Vendôme, then up rue de Rivoli along the Jardins des Tuileries, a beautiful garden where they enjoyed a delicious Parisian lunch.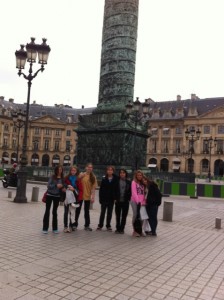 Of course, what trip to Paris would be complete without a little dessert indulgence? The students stopped next to L'Eglise de la Madeleine in an excellent tearoom (Ladurée), where they bought delicious cakes. "Yum, French Pastries!"
They have admired the view on the Place de la Concorde, the palace Bourbon, and the Obelisque. They also visited the Musée de l'Orangerie, where they appreciated Monet's huge water lily canvases, as well as a collection of paintings by famous artists such as Renoir, Picasso, Matisse, and Modigliani.
The students have had lunch in a restaurant facing the Hôtel des Invalides, walked along the Seine towards the Pont Alexandre III, the Grand Palais and the Petit Palais.
On their first day of school at La Source, Nathalie Laiheugue, the international exchange coordinator, welcomed the students and gave them their class schedule and a tour of the school. After a busy morning in class, they had lunch in the dining hall with ISTP Middle School Principal, Barbara Greiner. The students enjoyed their school lunch so much that they even asked Barbara to take a picture of the food!
The lunch menu: tuna and corn salad, green beans, cooked ham, yogurts, and bananas. After lunch, the students had a long lunch recess (an hour), before going back to class.
The children are enjoying their time at La Source, working and learning a lot and also making new friends at school. The students are very interested in learning about French/European history and art history in particular. Barbara Greiner said, "They are attentive when I give explanations, and ask questions. It is a pleasure to visit Paris with them."